Ooredoo Business
A trusted partner of businesses worldwide
We serve organisations across a wide range of dynamic markets. Our expertise enables us to support all types of businesses, from global enterprises through to small companies and start-ups. We focus both on our customers business and helping them to grow it.
We believe in our customers and their desire to follow their business instincts, no matter the obstacles. When it comes to communication and ICT, through our diverse expertise we understand exactly what every type of organisation requires.
Not only do we provide for customers to lead, but we also help them improve their productivity and efficiency in a cost-effective manner by providing top-notch, reliable products and services. These include mobile and fixed connectivity, broadband, Internet Leased Lines, Intra City and Inter City Leased Lines, MPLS IPVPN and many other new solutions such as M2M (Machine to Machine), cloud and mobile applications.
Equipped to deliver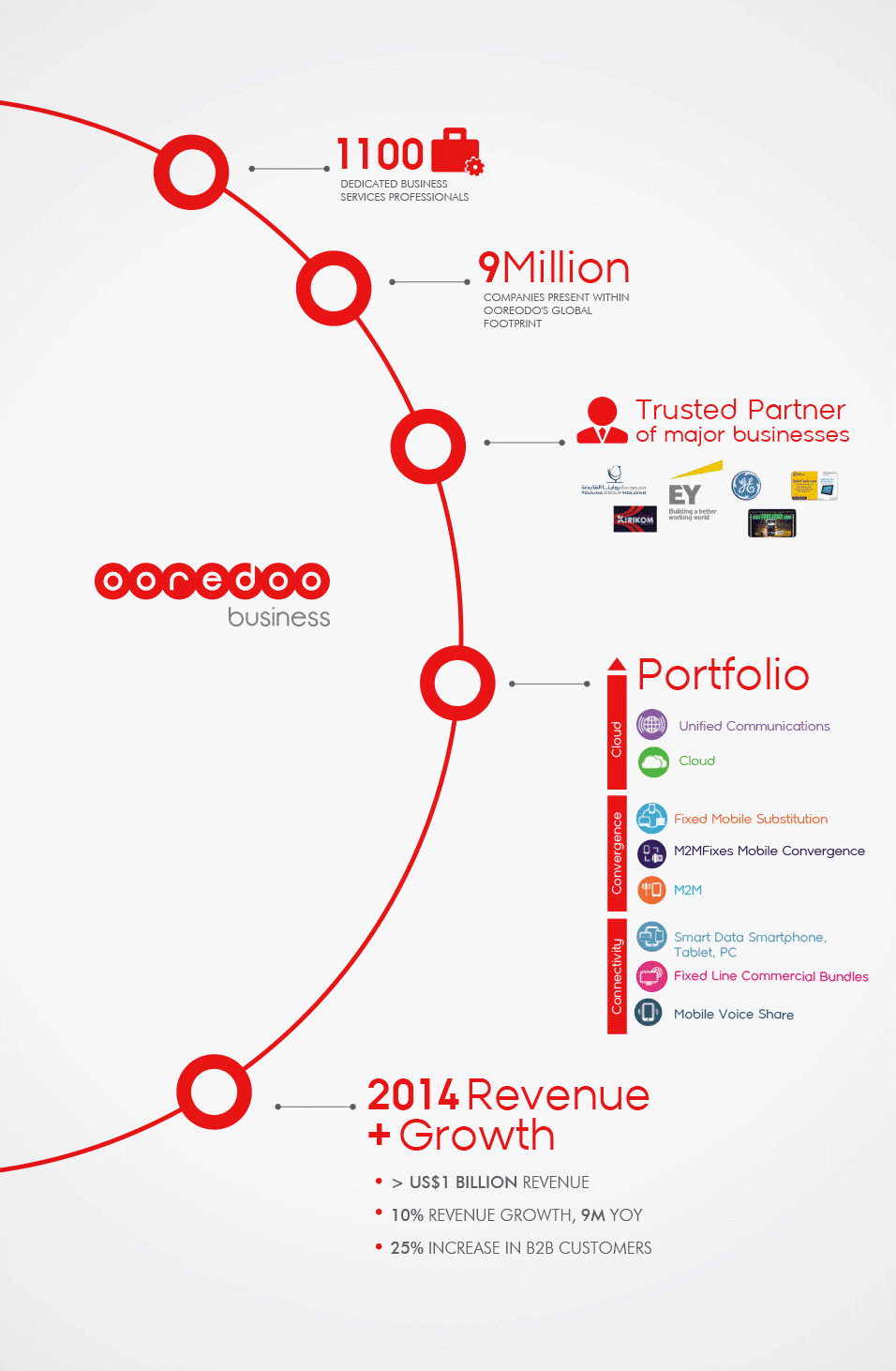 Case Studies
Connecting without limits: Kirikom + Ooredoo Algeria

In Algeria we developed a smart and cost-effective technology solution to enable greater access and real time group communication between taxi drivers at Kirikom, a transportation and emergency services company in Algeria.

Read more

Innovating to extend healthcare: The Missan Directorate & Asiacell, member of Ooredoo Group in Iraq

In Iraq we developed a customised solution that helped The Missan Directorate, which operates under the Ministry of Health in Iraq, to project a caring image, increase regular visits from patients by providing a better patient service and extend special services for pregnant women.

Read more

Secured and convenient connectivity: The Bayahi Group and Ooredoo Tunisia

In Tunisia we helped to empower The Bayhani Group's network of empoyees to overcome logistical, data collection and distribution challenges with tools to track and respond to customers while on the move.

Read more
Engage & Inspire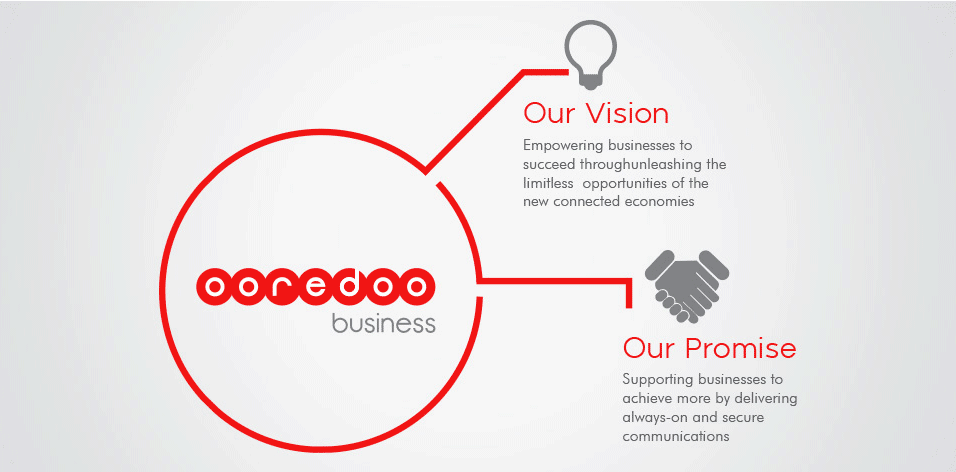 Ooredoo Enterprise Services
M2M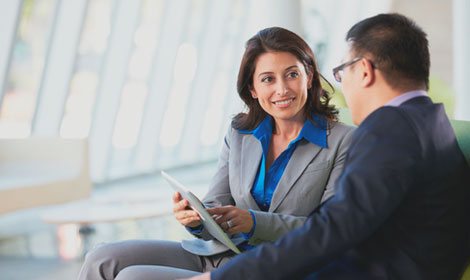 Ooredoo Business enables customers to benefit from innovative solutions in the "Internet of things" market place across MENA & Southeast Asia. Ooredoo M2M/IoT solutions capture value beyond connectivity which helps to improve customers existing businesses while also enabling new business opportunities.
MNC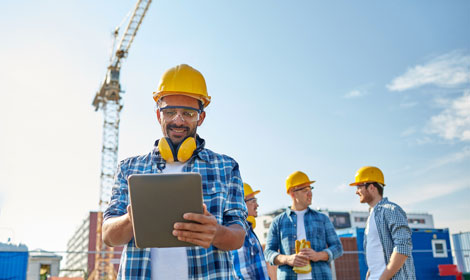 For larger, multinational entreprises we offer bespoke services and solutions which go beyond core connectivity. These include coordinated account planning and MNC specific offers such as roaming offers, multi-country VPN and converged fixed mobile voice solutions.
SME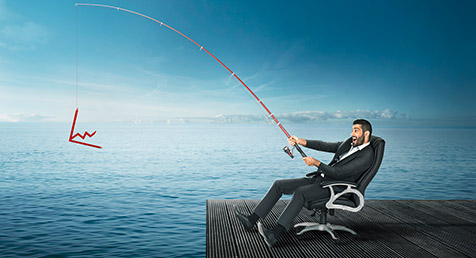 Our solutions are tailored to the specific needs of SMEs who are rapidly adopting ICT as they look to grow their businesses and reach out to more customers on the Internet. These solutions include Data Centre solutions, Cloud Video Conferencing, Cloud Wifi and Cloud Security Solutions along with virtual meeting rooms and digital signage among others.
SOHO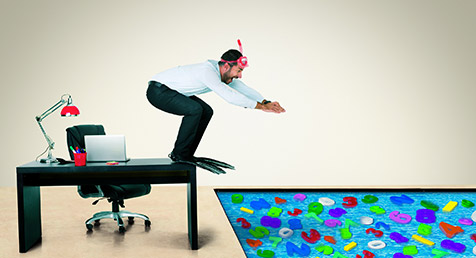 We offer complete packages for Small-Office-Home-Office (SOHO) customers. These 'one-stop-shop' solutions provide convenience for small businesses and enable companies to deploy innovative solutions without requiring in-house technological expertise. These solutions include Wi-Fi, web hosting, VPN, virtual PABX and LAN features among others.
---
Ooredoo Global Services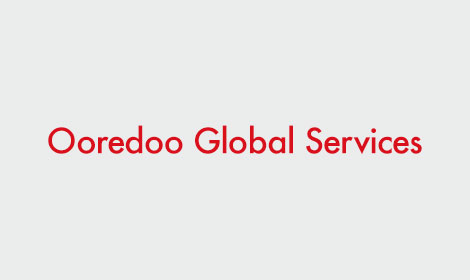 A premium partner for wholesale carriers looking for connectivity in the Middle East, North Africa and Southeast Asia. Offering expertise and access to our world-class networks, which act as a global exchange for voice, capacity data and roaming traffic, via a single point of contact.
Find out more
Ooredoo Sales Academy
Maintaining an industry leading team of world-class B2B talent, the Ooredoo Sales Academy provides best-in-class sales techniques for business services to over 600 sales team members.